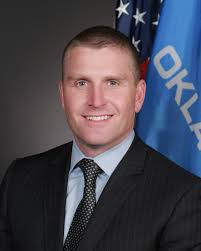 ANOTHER RINO REPUBLICAN
IN A LEADERSHIP POSITION
THE WATCHMAN
  This week we returned to the RINO list for our story. Not surprisingly we found a member of the House leadership right at the bottom of the list. We still haven't seen a Democrat near the bottom. Is it any wonder that Republicans are losing their special elections?
  We first went to his Official web site at www.Ok.gov here 

Representative Chris Kannady - Oklahoma House of Representatives

. We will give him credit for his service in the Marine Corps. It deserves to be noted that his service in the JAG Corps is what those on the line would refer to him as a REMF. You'll have to ask your friendly Marine Corps Vietnam Veteran what that means. It's not fit for publication according to our editor.
  The next article of interest we found was this Chris Kannady - Ballotpedia. Now this gives us a little more insight into his 2nd term in office. What we found especially interesting was his sponsored bills. We would encourage you to open the link and go through the bills for yourself. Almost every single bill or resolution he sponsored that was approved was for a special interest group. The one he failed to get approved was the pay raise for the teachers. Every single bill or resolution he did get approved will have a drastically bad effect on the pockets of the middle and lower income citizens of the state of Oklahoma. This article also highlights that more priority was placed on commending various citizens and organizations than on passing a budget. This is indicative of a complete failure of the entire leadership of the House of Representatives leadership.