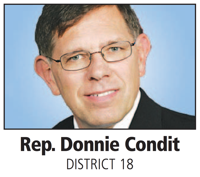 As we promised, we would identify all of those Representatives who changed their votes and failed to override the Governor's veto of informed consent on Vaccinations. Here we present to you the Representative of House District 18, Donnie Condit. Once again we see the first vote as an appeasement to his constituents for the sake of receiving their vote in the upcoming elections. These do not represent Oklahoma values or Oklahoma standards of honesty and fair play. This is more like Chicago style politics than what we should expect. Incidents like this just go to prove why Oklahoma is considered the most corrupt state in the Union.
We started looking at the Representative by going to his brag sheet at
www.ok.gov
. Here is what we found
Representative Donnie Condit - Oklahoma House of Representatives
. All though this brag sheet doesn't cover everything, it does tell us enough to understand why he is a Democrat. In an era where most Democrats are changing to Republicans just to get elected, we have to admire his tenacity and courage to stick with the party he's been with for a very long time.
The next article of interest we found was this
Donnie Condit - Ballotpedia
. We learned a lot from this article. We would like to know why they are justified for getting $160.00 a day per-diem for their stay in the capital. In addition we would like to have those records readily available to the public for a full disclosure. We would also like to know if they are being paid per-diem on days they are counted as absent for votes. If you add their base salary and per diem together, these people who pay little attention to the desires of their constituents are making a killing off our tax dollars.
The next article of interest we found was this
Oklahoma Representative Donnie Condit [D] | LegiScan
. Now this is only an average article. It does cover the last two sessions, but it misses a key element of both sessions. It fails to mention any of the bills that were brought to the House floor for a vote and failed. Now it is our opinion that if they are going to list the products of a congressional session, they should list them all. Only then can the people have a true feeling of what has been accomplished by their legislator.
The next article of interest we found was this
Rainy Day[s] Funding | Oklahoma Observer
. This is an open letter to the Governor by the Representatives of both Districts 17 and 18 requesting assistance for infrastructure after the county was severely damaged by massive amounts of rainfall during the month of May. They only mentioned one county by name, but hinted that the damage existed to the surrounding counties as well. We have been unable to locate a response from the Office of the Governor.
The next article of interest we found was this
Donnie Condit - Oklahoma Legislature - Open States
. We found this interesting simply because it showed an estimate of his campaign finances for both his 2010 and 2012 campaigns, but not his 2014 campaign. It also showed some of the latest votes, but once again it failed to show any no votes he made. This just goes to prove that statistics can be manipulated.
The next article of interest we found was this
Donnie Condit – ArleneArmy
. The writer of this article is a black Republican who was once kicked out of the GOP Headquarters by Matt Pinnell because he thought she didn't belong there. When she walked in with several caucasians 5 minutes later, she was welcomed with open arms. This is an article well worth opening the link and watching the video on. This event happened in Calvin, Oklahoma and it was an all candidate forum. You'll find it very interesting.
We next went to the biography page to see if we could find any additional information here
Donnie Condit's Biography - The Voter's Self Defense System - Vote Smart
. There was really nothing new here with the exception of his own family. We will not list them as they have not been a part of this subject. It also indicated that he was a former member of the McAlister City Council.
We next went to the voting records section here
Donnie Condit's Voting Records - The Voter's Self Defense System - Vote Smart
. This is well worth you opening and reading. This indicates that we have the rarest of Democrats here. His voting record indicates that we have what is known as a "Blue Dog Democrat." This is the first that we have seen in a long time. There are none in either chamber of the U.S. Congressional delegation.
Agriculture and food


2015 Oklahoma Farm Bureau Federation 75%
2913 Oklahoma Farm Bureau Federation 100%
There is enough of a difference in these ratings that he should be asked about them during his campaign to remain in office.
Business and Consumers


2013 Oklahoma National Federation of Independent Business 43%
2014 Research Institute for Economic Development 60%
Although these are good numbers for the consumers, they also show a lack of concern for the growth of anything that might help increase the business climate of the area.
Since 2008 the Oklahoma Conservative Political Action Committee has consistently rated him anywhere from 30% to 49% with the exception of 2013. In that year they rated him at 63%. None of these are good, but all of them are expected from a Democrat.
Environment


2014 Oklahoma Sierra Club Listed but not rated
2013 Oklahoma Sierra Club A
2012 Oklahoma Sierra Club A
This would indicate that he's an environmentalist. This is another political position that we find common within the Democratic Party.
Fiscally Conservative


2014 Sooner Tea Party 15%
2013 Sooner Tea Party 33%
2011 Sooner Tea Party 70%
This indicates that the longer he has been in office, the more he has been willing to recklessly spend the people's money. He's not alone in this. In fact most of the legislators in both chambers are just as guilty.
We went to
www.ok.gov/ethicscommittee
to look at his campaign reports. Once again we found that his campaign was full of donations from individual donors. We also found that there were donations from unions, political action committees and special interest groups. None of this was surprising since these groups have traditionally supported Democratic candidates.
The irony of this wishy washy candidate is that he is running unopposed. We, in all good conscious cannot and will not endorse this candidate. The citizens of his district deserve better than a tax and spend blue dog Democrat representing them. We will be keeping an eye on this politician and we would urge any qualified opponent to step up and challenge him as soon as possible.