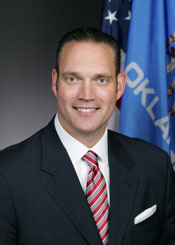 By the Watchman
It appears that the Oklahoma State Chamber of Commerce has made a strong move to regain control of the Oklahoma House of Representatives. Instead of following normal procedure and waiting until after the elections in November, they found it imperative to elect a speaker designate in early May. This same individual made an attempt to become speaker last year, but was shot down when this publication brought out concerns over shady donors and questionable trips made on his plane and where the money came from for those trips. Those questions haven't gone away.
The individual we're talking about is Representative Charles McCall. The first article of interest we found was this
Al Gerhart: Charles McCall's Speaker Campaign Implodes Over Fears of Junkets and Questionable Donors
. This is the article that led us to research exactly what went on during the Caucus meeting that got the Representative elected. In addition it raises a question of ethics. Although it will be voted on again after the election, the newly elected Republican members will be intimidated by the sheer fact that this man had been elected speaker designate by the previous caucus.
It is evident that he prefers his privacy. There was very little information available on his brag sheet. It doesn't have any family information or even educational information on it. It did list the bills he submitted this year and last. We just happened to go through them and only two of them were signed into law. Both of them happened to be tax increases. Just think of what we are in for with him as the Speaker of the House. He'll tax everything and everyone except those businesses that make up the Oklahoma State Chamber of Commerce.
The next article of interest we found was this
House Republicans elect Atoka banker Charles McCall as speaker designate - Tulsa World: News
. This is a basic announcement of Mr. McCall being elected as the Speaker designate. We find it disturbing that the paper and reporter never bothered to research the individual and find out why he failed to make the grade earlier. In addition to that there is no mention of the fact that the only two bills he did get passed into law this year were tax increases. We must ask how that benefits the citizens of his district.
The next item of interest we found was this
Charles McCall - Ballotpedia
. This is where we begin to get an idea of the man himself. We can see his educational background. We also see that he served as Mayor of Atoka from 2005 until 2012. It also tells us some of the bills he tried to have passed this year. He proposed a State Constitutional Amendment that would have allowed public funds for sectarian and religious purposes. This is a crystal clear violation of separation of church and state. It failed in committee.
He proposed deleting any reference to the Self Defense Act; deleting administrative penalty for certain prohibited act; and an effective date. This died in Conference Committee. The very idea that he would propose legislation that would endanger the lives of the citizens of Oklahoma is beyond preposterous.
We don't know why, but in a year that the state was looking to close a $1.3 billion dollar shortfall in our budget, he proposed to give a tax credit back to the Game and Fish Wildlife Diversity Fund.
The next item of interest we found was this
Caucus selects McCall as Speaker of the House | Examiner Enterprise
. We have mentioned earlier that they had chosen a Speaker designate. Here is one of the first announcements. This time the Oklahoma State Chamber of Commerce and Representative McCall weren't about to take any chances. They held the election early to ensure that the man they wanted to steer the House for the next two years worked for them and did what they said. Now it's up to you the voting public to break the stranglehold they are trying to place on the citizens by breaking the back of this monopoly they have.
The next article of interest we found was this
Charles A. McCall - Oklahoma Legislature - Open States
. This is an incomplete record of Mr. McCall's political activities. A good example of this would be that it only includes his estimated campaign finances for his 2012 campaign, yet right at the top of the news section is the announcement of his election as speaker designate. In other words he is spoon feeding the information to these people that he feels they need to know and nothing more. It gives the impression that he doesn't believe in an open government.
We next went to
www.votesmart.org
to see what information they had available on Mr. McCall. We first went to his Biography page here
Charles McCall's Biography - The Voter's Self Defense System - Vote Smart
. This is where we finally get a look at what else is behind the man. We found out that he's married with children. He's a licensed Nursing Home Administrator and received his degree from the School of Banking from the University of Colorado in 2000. Perhaps the biggest reason this man should never have been elected to office much less the position as Speaker designate is he is a former Board Member of the Oklahoma State Chamber of Commerce. Folks he will not work for you as the Speaker of the House. He will push the State Chambers agenda through the House.
Just to verify that he was not a current board member of the Oklahoma State Chamber of Commerce we went to this site
Board of Directors | Oklahoma State Chamber
. This is a current roster of the board members for the State Chamber of Commerce.
The next item of interest we found was this
Charles McCall's Voting Records - The Voter's Self Defense System - Vote Smart
. Even this report needs to be updated. It only covers up to bills voted on through the 10
th
of March this year. One of the bills he and many of his fellow legislators voted in favor of would have denied the citizens of Oklahoma their Constitutional Right to keep and bear arms. From our point of view those legislators who feel that way are welcome to move out of state any time they want. They have no right to force their liberal agenda on the rest of us.
2012 Oklahomans for Life 100%
There have been no reports submitted since then.
2015 Oklahoma Farm Bureau Federation 100%
2013 Oklahoma Farm Bureau Federation 100%
2014 Research Institute for Economic Development 84%
2014 Oklahoma National Fed. Of Independent Business 100%
2014 American Conservative Union 75%
2013 Oklahoma Conservative PAC 70%
What these scores indicate is that on any vote he makes he is going to favor the business and corporation side over those of the individual citizens of Oklahoma. That falls far short of meeting the standards we expect in Oklahoma.

Fiscally Conservative
2014 Sooner Tea Party 35%
2013 Sooner Tea Party 16%
These figures here indicate the true nature of his politics. He's a tax and spend liberal who will never follow the party platform of lower taxes and smaller government. We refer to these types of Republicans as undocumented Democrats. We can almost guarantee you that he will campaign as a Conservative this fall.
We next went to the campaign finance report section to see what was available. We were shocked to find that there were absolutely no financial records on file for this individual. It made us wonder if this had something to do with questionable donations mentioned in an earlier report. We did take the steps necessary to correct this situation by obtaining and submitting a copy of his campaign financial reports to this organization.
We next went to the 2015 campaign finance reports here
guardian.ok.gov/PublicSite/Reports/FetchReportToPDF.aspx
. This report only covers the fourth quarter of the 2015 fiscal year. The first quarter of the fiscal year 2016 has yet to be filed. Seems like a man that can't get the reporting system down and is in fact three months late on it, has no business even considering accepting the position as speaker. Maybe he feels he's above the law. We will say that there were numerous individual donors listed in this report. Oddly there seem to be several with connections to the same organizations. There are a lot of Political Action Committees that were associated with medical organizations. This may have had something to do with the push again this year for the state to implement Obamcare. When are these legislators going to come to realize that when the people say no they mean no.
Even going into the guardian system failed to provide enough information on his campaign finances to make an accurate assessment of his campaign finances. We next went to
www.ok.gov/ethicscommission
to see what he had on file for his previous years. Here are a few items of what we found.

May 31, 2012 Greater OKC Chamber PAC $500.00
June 19, 2012 Chesapeake Oklahoma PAC $1000.00
It just goes on and on. There are multiple union, PACs and other special interest groups all the way through the first report to the report on the 4thquarter of the 2016 campaign season.
We next looked at all the individual donations. Some of those donations just barely fall under the maximum contribution they can give under that law. One of the items we noticed were loans made by him to his campaign. They were properly entered into the record; however we were unable to find any record of those loans being paid off. In as long as we've been doing this, we've never seen this before. We believe that this changes the status of the loans from an actual loan to a contribution. This is something that the State Ethics Commission should investigate. If these are in fact considered contributions, then he has far exceeded the maximum allowed according to state campaign laws.
He's also indicated that he received numerous donations from out of state. This is an instate election. Why does he need out of state contributors. It's like he really doesn't care where the money comes from.
Once again he is running unopposed for re-election. Since he is the President of the bank that covers that area we can't help but wonder if that has something to do with nobody being willing to run against him. Could he be holding a loan or a mortgage over their heads to keep them from running? Something just isn't right there.
In closing we must say that there is one chance left to prevent this man from becoming the next Speaker of the House. That will occur in November after the elections. Unless the citizens of Oklahoma want to live with a continuing stream of tax increases and fee increases they will ensure that their Representative votes no in November for this man to become the next speaker of the House. We the People of Oklahoma cannot tolerate and endless stream of tax increases while some companies in the state continue to collect almost $2 billion dollars a year in tax credits. The stranglehold that the Oklahoma State Chamber of Commerce has on both chambers of the legislature and on the state of Oklahoma. This is a fair warning to all those that support Mr. McCall in November. We will find out who you are and you will be watched and reported on by this organization. You will soon find yourself a pariah in your own home towns.